Ride N Safe Medical Transport | Moving People Toward Recovery
Covid Transportation is Now Available
Ride N Safe continues to operate safely under state, local, and CDC guidelines. Non-emergency medical transportation (NEMT) services Ambulatory/Walk-on Assist, Wheelchair, and Reclining Stretcher-chair are available in all three Service Areas - Fort Worth, Waco, and Denton. In 2020, Ride N Safe safely and successfully completed over 1,000 COVID-related transports.
Medical Transportation for Individuals
Can Help and Ease the Worries Related to Transportation Needs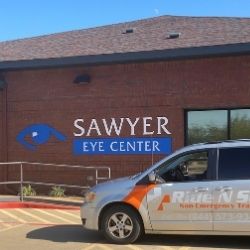 Unlike public transportation, taxis, and ground ambulance, Ride N Safe Medical Transport, LLC offers a cost-effective solution for patients needing reliable and timely transportation to and from a wide variety of healthcare settings.   
In fact, the very reason Ride N Safe was established in 2007 was the lack of transportation options within Hood County and "to & from" the Fort Worth Hospital District. Soon after, Ride N Safe rapidly expanded to other outlying counties to fill the transportation "gaps" in not just one Service Area but three - Fort Worth (eight counties), then Waco (eight counties), and now Denton (three counties).  
For travel outside these three Service Areas, with prior notice, Ride N Safe is glad to provide regional and even out-of-state transports.
Transition "To & From" All Levels of Care
Ride N Safe serves hospitals, long-term acute care facilities, rehabilitation hospitals, skilled nursing centers, dialysis and wound care facilities, out-patient imaging, physicians' offices (primary care & specialists), physical therapy, and hospice.
From home to all types of medical facilities
To and from hospitals to all levels of care and/or living arrangements
From far away to a care facility closer to loved ones and caregivers
From rehabilitation to home
Why Choose Ride N Safe Medical Transport?
Freedom to Stay at Home
With Ride N Safe, patients recovering in the comfort of their own homes can easily make critical follow-up appointments even though they may not be able to drive yet. If a wheelchair and/or decreased stability prevents a family member or friend from providing transportation, a call to Ride N Safe can easily overcome those challenges.  
Ability to "Age in Place"
If you, or a loved one, chooses to remain at home during ongoing treatments or recovery, Ride N Safe offers a reliable alternative that makes aging in place possible. 
Sense of Security
Passengers, and their loved ones, can rest assured that Ride N Safe provides reliable, timely, and courteous transportation. With just a phone call, scheduling transports for physician appointments, dialysis, and other outpatient services is easy.  
Improved Quality of Life
When possible, Ride N Safe can help make arrangements for passengers to attend special events - funerals, graduations, family gatherings, and other non-medical appointments close to home or some distance away. Being wheelchair-bound should not restrict someone's ability to experience special occasions. In fact, these outings may enhance one's ability to thrive during recovery.
Provide Additional Support
Ride N Safe provides non-emergency medical transportation all year long, including holidays. This is especially comforting for spouses, caregivers, and adult children who may be primary caregivers or assisting with a patient's care while working full-time or living far away.
Peace of Mind
Being certain that a patient makes all follow-up appointments and treatments (therapy, dialysis, chemotherapy, wound care, rehab, etc...) on a regular basis is critical for a quicker and more complete recovery. Making it to all medical appointments is key to proper healing. Seeing a healthcare professional on a scheduled basis allows for close monitoring of a loved one's well being which is very helpful for those who live alone.
Non-Emergency Medical Transportation
The best healthcare services in the world can't help you if you have no way to get there
Ride N Safe Medical Transport, LLC provides safe, reliable, and courteous non-emergency medical transportation between all types of healthcare settings.  Ride N Safe Medical Transport provides transport to urgent care, from the hospital at discharge, to long-term acute care or rehabilitation center for extended recovery, to skilled nursing facilities, for ongoing dialysis or wound care appointments, back home, to follow-up appointments at the doctor's office, and even hospice.  
Non-Emergency Medical Transportation (NEMT) exists to ensure that everyone facing transportation challenges can still access preventative and specialty medical care.  As a result, engaging Ride N Safe may improve overall health outcomes, avoid costly ambulance bills, and decrease emergency room visits. The benefits of NEMT services are especially significant for those struggling who are confined to a wheelchair, who have chronic conditions (diabetes, heart disease, cancer, COPD) and for those recovering from injuries or a major health crisis (car accidents, stroke, amputation, joint replacement surgery).  
Awesome Company! I work in a Skilled Nursing Facility and can always count on Ride N Safe to get our residents where they need to go safely. Teona is very friendly and pleasant to work with. She is always able to help me and our residents out. Highly recommended!
Very nice service. They helped with transporting my dad home from the skilled nursing facility. Jim our driver was very nice and very helpful. Highly recommend this service!
They are new to Waco but they arrived just in time! My mother broke her ankle and James provided careful, considerate and professional care. He helped her into a wheelchair accessible van and waited at the appointment, then returned her home safely. Great for anyone in need of this service.....especially if you're pressed for time!
Huge Thank You to James Young, Waco Branch Manager & Teona! The care & service you provided for my Mom was outstanding! We can't thank you enough!
We've used ride n safe for years with my mom. She is fully bed bound. Yesterday was another example of why we use them. The driver Michael was awesome. We will continue to use them for all our transport needs
In my position, I interact with transport companies nearly every day. Randy, the driver for Ride N Safe, is undoubtedly the best I have encountered. He was efficient, professional, and extremely kind. With Randy on board, I can highly recommend this transport company to you.
Always fast when it comes to picking people up from the hospital or for Dr appointment. Have always been satisfied with the service provided by this transportation service. They give an ETA and are usually by there at that time and will call if there is a delay.
Ride N Safe Medical Transport is Available When you Need Us
Calls for medical transportation are dispatched 24 / 7 / 365 including holidays!