NEMT Services
Ride N Safe Medical Transport | est. 2007
Supporting care providers with safe, reliable, stress-free transportation for those transitioning between all levels of healthcare
Corporate Medical Transportation Solutions
Ride N Safe Medical Transport Serves a Variety of Corporate Customers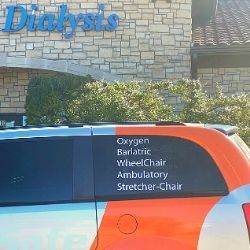 In addition to serving all hospitals located in Ride N Safe's three Service Areas - Fort Worth, Waco, and Denton - its fleet provides normal and COVID-related medical transportation to a wide variety of corporate clients including:
Improved Availability of Beds
Ride N Safe Medical Transport provides services 365 days a year, supporting night, weekend, and holiday discharges. Ride N Safe strives to respond to "same-day" transport requests within 4 hours. This provides significant benefits to Case Management Teams as they manage the ongoing challenge of bed availability.
Understanding that Case Management Departments need to efficiently transition patients from in-patient to out-patient status, Ride N Safe's internal response time goal is 2 hours or less. In 2020, the average response time "from the call for transport to patient pick-up" was 1 hour and 37 minutes.
That makes the fifth consecutive year, that Ride N Safe's average response times have remained under 2 hours for "same-day" transports. Daily, ALL Pre-scheduled appointments run 98-100% on time!
Extension of Staff's Patient-Centered Care
Ride N Safe Drivers are not simply transporters. Many Drivers have worked in EMS and other patient-care environments so passengers are well cared for "in transit" to the next level of care. Ride N Safe understands that its employees represent the "receiving" facility when providing non-emergency medical transportation for both new clients and for current residents.  
Ride N Safe has the ability to transport patients that some providers cannot handle. Mobility-challenged passengers who are medically stable yet require a wheelchair or reclining stretcher-chair transportation make up the majority of Ride N Safe's passengers. Ride N Safe can safely transport and give extra attention to those that may: 
be oxygen-dependent
up to 450 lbs. 
medical complexities - established tracheotomies, wound vacs, etc...
require contact precautions due to illness or infection to protect the patient and the Driver
have Dementia/Alzheimers
Dispatch will ask about these, and any other concerns, when scheduling a transport. These extra steps allow passengers to be matched to the most appropriate van and Driver.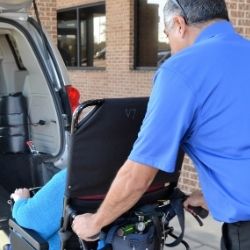 Decreased Costs For Medical Transportation
Compared to in-house facility resources and/or out-sourced, third party providers, Ride N Safe Medical Transport can help deliver savings for many facilities with:
discounts for early payments (before Net 30)
NO charge for a facility staff member, or loved one, to accompany a passenger
NO extreme "after hours", "weekend" or "holiday" rates
responsive Drivers who arrive in a timely fashion so staff can continue to care for other residents
three Service Areas that include both metro and rural counties
Complimentary Transportation Audit
Upon a healthcare Administrator's request, Ride N Safe Medical Transport is glad to help analyze current transportation costs, trends, possible overpayments, and opportunities for savings.
Increased Staff Productivity
Facilities are busier today than ever. Ride N Safe Medical Transport works diligently to streamline the transport request process and avoid any delays in transport that might affect care. This means that staff has more time to manage other facility-based tasks. They do not waste time: 
waiting on Drivers to arrive in order to make it to the next destination in a timely fashion; This is extremely important for those with "assigned chair times" for dialysis
rescheduling resident appointments because of a no-show Driver and/or a late arrival
accompanying patients to "off-campus" locations; Upon request, Drivers can wait with patients rather than staff having to leave the facility (additional fees apply)
Ride N Safe Medical Transport has been providing safe, quality non-emergency medical transportation (NEMT) since 2007. Corporate clients have the confidence to entrust their patients/residents with Ride N Safe for one-time and ongoing NEMT needs. Ride N Safe Medical Transport realizes that staff must honor residents' and families' decision-making, however, it is comforting to confidently recommend a provider with a proven track record.
Additional Support
Ride N Safe Medical Transport offers customers with support all year long (contracted or on an "as-needed basis") if:
a facility van is unavailable
a facility van driver calls in sick
patient's or resident's destination is too far away for the facility van/driver
existing medical issues need extra attention
outsourced transportation is not available or is too costly
For contracted facilities, Ride N Safe Medical Transport provides Emergency Evacuation support for Emergency Response Plans. Should the need to evacuate occur, Ride N Safe would support NEMT-appropriate patients.
Peace of Mind
Follow-up appointments and treatments (therapy, dialysis, chemotherapy, wound care, rehab, etc...) are critical for quicker recoveries and improved quality of life.
The Ride N Safe Team understands the importance of providing timely service, along with compassion, as passengers struggle to overcome injury, illness, or disease processes. Many times, as people become more familiar with Ride N Safe Drivers, it is not uncommon for them to even request their favorite Drivers!
Additional Patient-Centered Services
When possible, Ride N Safe will work with individual customers and facilities to help arrange transportation for:
graduations
weddings
family reunions
community events
funerals
Ride N Safe Medical Transport is delighted to help support a patient's or resident's ability to thrive. Sometimes the best medicine is being with friends, family, and neighbors while recovering.  
Ride N Safe Medical Transport is Available When you Need Us
Call today for all your transport needs! (817) 778-9747