The Ride-N-Safe Difference
Ride N Safe Medical Transport | est. 2007
Supporting care providers with safe, reliable, stress-free transportation for those transitioning between all levels of healthcare
Ride N Safe Fleet
Americans with Disabilities Act (ADA) Compliant Vans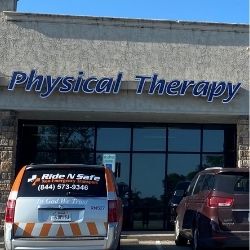 Ride N Safe Medical Transport operates a versatile fleet of Americans with Disabilities Act (ADA) compliant vans. Our fleet can accommodate three different non-emergency medical transport (NEMT) types: Ambulatory (walk-on assist), Wheelchair, and Reclining Stretcher-chair transportation. Vehicles can handle all non-emergency and mobility-challenged transportation needs, including bariatric and oxygen-dependent passengers.
Specially-modified ADA compliant vans, with slightly different features, can accommodate:
Ambulatory (walk-on assist) - includes those with canes, walkers, and crutches
Traditional wheelchairs
Reclining Stretcher-chairs
Standard patient-owned power chairs (oversize available if chair & patient do not exceed 450lbs.)
"Forward-facing" transports
Anchored lock-downs for more comfortable rides
Oxygen tanks
Bariatric patients up to 450 lbs.
Complimentary "Ride-a-Long" passenger (personal attendant, caregiver, family member), as seating permits
Ride N Safe's Global Positioning System (GPS) Fleet Tracking allows the Administrative Team the ability to monitor the safety and security of passengers with real-time oversight to:
pinpoint each vehicle's real-time location
optimize Driver/passenger assignments to achieve response times and on-time goals
help Drivers avoid traffic backups and construction zones
track Drivers

speed
braking
quick starts
harsh cornering 

monitor video (with alerts) of the Driver's street view (in front of the van) and of the Driver and Passenger (inside the van)
Ride N Safe Drivers and Support Staff
NON-EMERGENCY MEDICAL TRANSPORTATION(NEMT) PROFESSIONALS
Ride N Safe Drivers and Support Staff are courteous, caring, and compassionate professionals trained to treat your family member, facility residents, and healthcare agency patients with the dignity and respect they deserve.
The entire team at Ride N Safe Medical Transport, LLC – Administration, Dispatch, Scheduling, Drivers, and Fleet Operations - takes pride in providing safe, timely, reliable, and efficient non-emergency medical transportation. Our staff strives toward delivering dependable and patient-centered service on a consistent basis. Many of the area's medical facilities and agencies have come to rely on the Ride N Safe team to meet their non-medical emergency transportation needs - scheduled and unplanned. 
In large part, Ride N Safe's success and reputation are due to its Drivers' commitment to passengers. Many of the Ride N Safe Patient Transport team have previously worked in the healthcare and/or medical transportation field(s) as:
First Responders
Emergency Medical Technicians (EMTs)
Paramedics
Facility Transportation Coordinators
Certified Nursing Assistants (CNAs)
Regardless of background or work experience, Drivers are chosen for their passion to serve others. This adds a special dimension to the care provided before, during, and after transporting a patient. Regardless of disability, medical status, age, location, or destination, Ride N Safe Drivers deliver competent and compassionate care during all aspects of transport. Drivers are trained to understand the anxiety, stress, and uncertainty patients, and their loved ones, face while dealing with medical and/or mobility challenges. Ride N Safe's entire team is committed to building strong working relationships with facilities and quickly developing rapport with passengers whether it's a one-time transport or recurring trips.
ALL Drivers receive extensive training in first aid, infection prevention, lifting and transfer techniques, techniques to deal with potential challenges, hospice sensitivity, and safe driving tips.  
The primary goal for Ride N Safe Medical Transport is to provide passengers, loved ones, and facilities the peace of mind that their non-emergency medical transportation needs are met in a professional, safe, and compassionate manner.
Ride N Safe Medical Transport is Available When you Need Us
Call today for all your transport needs! (817) 778-9747