Ride N Safe Medical Transport | Moving People Toward Recovery
The Ride-N-Safe Difference
Covid Transportation is Now Available
Ride N Safe continues to operate safely under state, local, and CDC guidelines. Non-emergency medical transportation (NEMT) services Ambulatory/Walk-on Assist, Wheelchair, and Reclining Stretcher-chair are available in all three Service Areas - Fort Worth, Waco, and Denton. In 2020, Ride N Safe safely and successfully completed over 1,000 COVID-related transports.
Americans with Disabilities Act (ADA) Compliant Vans
Ride N Safe Medical Transport operates a versatile fleet of Americans with Disabilities Act (ADA) compliant vans. Its fleet can accommodate three different non-emergency medical transport (NEMT) types: Ambulatory (walk-on assist), Wheelchair, and Reclining Stretcher-chair transportation. Vehicles can handle all non-emergency and mobility-challenged transportation needs, including bariatric and oxygen-dependent passengers.
Twenty-nine (29) specially-modified ADA compliant vans, with slightly different features, can accommodate:
Ambulatory (walk-on assist) - includes those with canes, walkers, and crutches
Traditional wheelchairs
Reclining Stretcher-chairs
Standard, not oversized, patient-owned power chairs
"Forward-facing" transports
Anchored, lock-downs for more comfortable rides
Oxygen tanks
Bariatric patients up to 450 lbs
Complimentary "Ride-a-Long" passenger (personal attendant, caregiver, family member), as seating permits
Ride N Safe's Global Positioning System (GPS) Fleet Tracking allows Administrative Team the ability to:
pinpoint each vehicle's real-time location
optimize Driver/passenger assignments to achieve response times and on-time goals
help Drivers avoid traffic backups and construction zones
realize significant fuel savings
Administrative Team monitors safety and security of passengers with real-time oversight of:
speed
braking
quick starts
harsh cornering 
with alerts, video availability of the Driver's street view (in front of the van) and of the Driver and Passenger (inside the van)
Overall, fleet expenses are lower due to:
ability to "build" schedules and optimize routes the night before picking up scheduled passengers
selection of appropriate vehicle, Driver, and route
accommodate timing considerations to make on-time goals and work in unplanned transports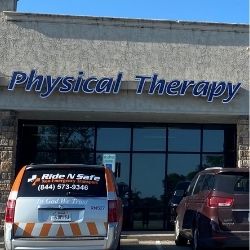 Trained, Courteous, Caring, and Compassionate Professionals
Ride N Safe Drivers are courteous, caring, and compassionate professionals trained to treat your family member, facility residents, and healthcare agency patients with the dignity and respect they deserve.
The entire team at Ride N Safe Medical Transport, LLC – Administration, Dispatch, Scheduling, Drivers, and Fleet Operations - takes pride in providing the most comfortable, safe, and efficient non-emergency medical transportation possible. Delivering dependable and patient-centered service on a consistent basis has built a solid reputation with area hospitals, healthcare facilities, senior living centers, hospice providers, and individuals. 
Ride N Safe's Drivers are key to its success. The majority of Drivers have years of experience in healthcare and/or medical transportation field(s) as:
First Responders
Emergency Medical Technicians (EMTs)
Paramedics
Facility Transportation Coordinators
Certified Nursing Assistants (CNAs)
Drivers' work experiences and passion for patient safety add a unique dimension to Ride N Safe Medical Transport. Regardless of disability, medical status, age, location, or destination, Ride N Safe Drivers deliver competent and compassionate care during all aspects of transport. They are trained to understand the anxiety, stress, and uncertainty patients, and their loved ones, face while dealing with medical and/or mobility challenges.
ALL Drivers receive training in CPR (Cardio Pulmonary Resuscitation), first aid, infection prevention, lifting and transfer techniques, techniques to deal with potential challenges, and safe driving tips.  
The primary goal for Ride N Safe Medical Transport is to provide passengers, loved ones, and facilities the peace of mind that their non-emergency medical transportation needs are met in a professional, safe, and compassionate manner.
Affordable Non-Emergency Medical Transportation
One of the great benefits of using a Non-Emergency Medical Transportation (NEMT) provider is the cost comparison versus emergency ambulance services. NEMT tends to be lower because of the expenses related to providing 9-1-1- level medical staffing and equipment. Therefore, Ride N Safe can more cost-effectively provide NEMT services. Dispatch is glad to provide NEMT for: 
Individuals - quotes are based on mileage and whether additional care is required; payment can be made with cash or by credit card
Corporate and independently-owned healthcare facilities/agencies - contracts reflect various levels of volume discounting and discounts for early payment (NET 30)
Long-distance trips for individuals and for corporate clients are quoted separately
To request a quote, call Dispatch at (844)573-9346 or CLICK HERE FOR A FREE QUOTE
Unlike air and ground ambulance service, non-emergency medical transportation for individuals, and for some facility residents, is not covered by private insurance or Medicare/Medicaid. However, some corporate customers do cover the cost of non-emergency medical transportation as a part of the care provided. If you are unsure, please ask a representative from the facility.
Payment must be handled in a prompt manner – at time of service or upon receipt of invoice. Without the extra overhead of an insurance/billing department, Ride N Safe has been able to maintain more affordable rates over the years.  
Ride N Safe does extend discounts to Veterans.  
Non-Emergency Medical Transportation
Dispatch is Accessible 24/7 For Transport Requests
Ride N Safe Medical Transport provides Non-Emergency Medical Transportation for a service area that covers over 13,834+ square miles - covering Erath, Hood, Johnson, Palo Pinto, Parker, Somervell, and Tarrant Counties in North Texas and counties surrounding Waco, including  Bell, Bosque, Brown, Comanche, Coryell, Hamilton, Hill, and McLennan in Central Texas.
Non-Emergency Medical Transportation
The best healthcare services in the world can't help you if you have no way to get there
Ride N Safe Medical Transport, LLC provides safe, reliable, and courteous non-emergency medical transportation between all types of healthcare settings.  Ride N Safe Medical Transport provides transport to urgent care, from the hospital at discharge, to long-term acute care or rehabilitation center for extended recovery, to skilled nursing facilities, for ongoing dialysis or wound care appointments, back home, to follow-up appointments at the doctor's office, and even hospice.  
Non-Emergency Medical Transportation (NEMT) exists to ensure that everyone facing transportation challenges can still access preventative and specialty medical care.  As a result, engaging Ride N Safe may improve overall health outcomes, avoid costly ambulance bills, and decrease emergency room visits. The benefits of NEMT services are especially significant for those struggling who are confined to a wheelchair, who have chronic conditions (diabetes, heart disease, cancer, COPD) and for those recovering from injuries or a major health crisis (car accidents, stroke, amputation, joint replacement surgery).  
Very nice service. They helped with transporting my dad home from the skilled nursing facility. Jim our driver was very nice and very helpful. Highly recommend this service!
They are new to Waco but they arrived just in time! My mother broke her ankle and James provided careful, considerate and professional care. He helped her into a wheelchair accessible van and waited at the appointment, then returned her home safely. Great for anyone in need of this service.....especially if you're pressed for time!
Always fast when it comes to picking people up from the hospital or for Dr appointment. Have always been satisfied with the service provided by this transportation service. They give an ETA and are usually by there at that time and will call if there is a delay.
We've used ride n safe for years with my mom. She is fully bed bound. Yesterday was another example of why we use them. The driver Michael was awesome. We will continue to use them for all our transport needs
Huge Thank You to James Young, Waco Branch Manager & Teona! The care & service you provided for my Mom was outstanding! We can't thank you enough!
Awesome Company! I work in a Skilled Nursing Facility and can always count on Ride N Safe to get our residents where they need to go safely. Teona is very friendly and pleasant to work with. She is always able to help me and our residents out. Highly recommended!
In my position, I interact with transport companies nearly every day. Randy, the driver for Ride N Safe, is undoubtedly the best I have encountered. He was efficient, professional, and extremely kind. With Randy on board, I can highly recommend this transport company to you.
Ride N Safe Medical Transport is Available When you Need Us
Calls for medical transportation are dispatched 24 / 7 / 365 including holidays!